All the features you will ever need.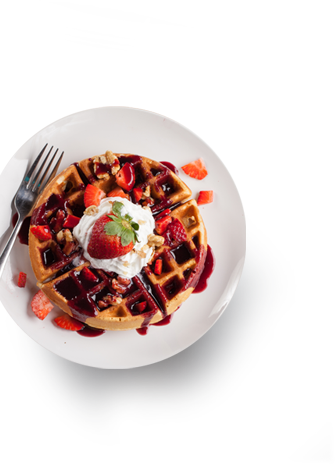 World's easiest to use POS

Get up and running in just 5 minutes with our intuitive design.

Automatic updates

Get the latest features as soon as they are released.

Hands free Installation

We can migrate all your data from your existing system and import your menu and customer data.

Security

Pin based logins for each staff allowing control over restricted functions and individual transactions.

Works offline

MyOrderBox synchronises and updates itself on the server to ensure that no information is ever lost whenever the internet drops.

Clock In | Out

Automatically calculate staff pay to the minute.

Order status

See an overview of the status of all your orders in real-time, be it in the kitchen, on the way or delivered.

SMS | Email

Send a message from your terminal.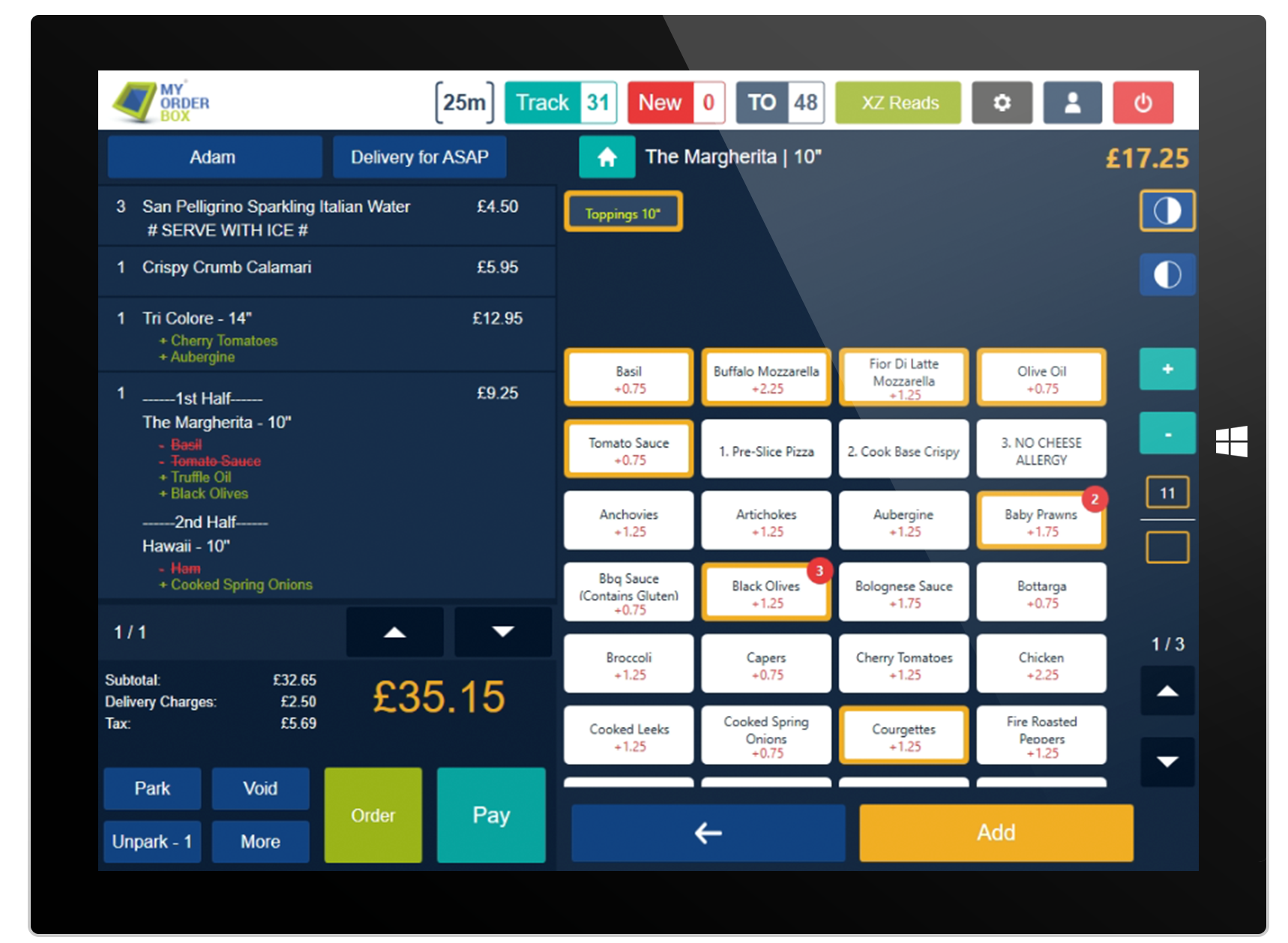 Table ordering

Speed up table orders effortlessly without mistakes.

Flying clerks

Users can take and view orders on different terminals.

Courses

Divide orders into separate courses (starters, mains, desserts) so the kitchen knows in what order they have to prepare the food.

Table timers

Allow staff to visually recognise the state and progress of the tables.

Table status

During busy moments, quickly see an overview of the status of all tables by checking whether they are reserved, held or available.

Split bill

Split a bill evenly or manually. MyOrderBox allows you to provide your customers flexible payment options when they dine out as a group.

Visual table layout

Reproduce your restaurant floor plan on your POS.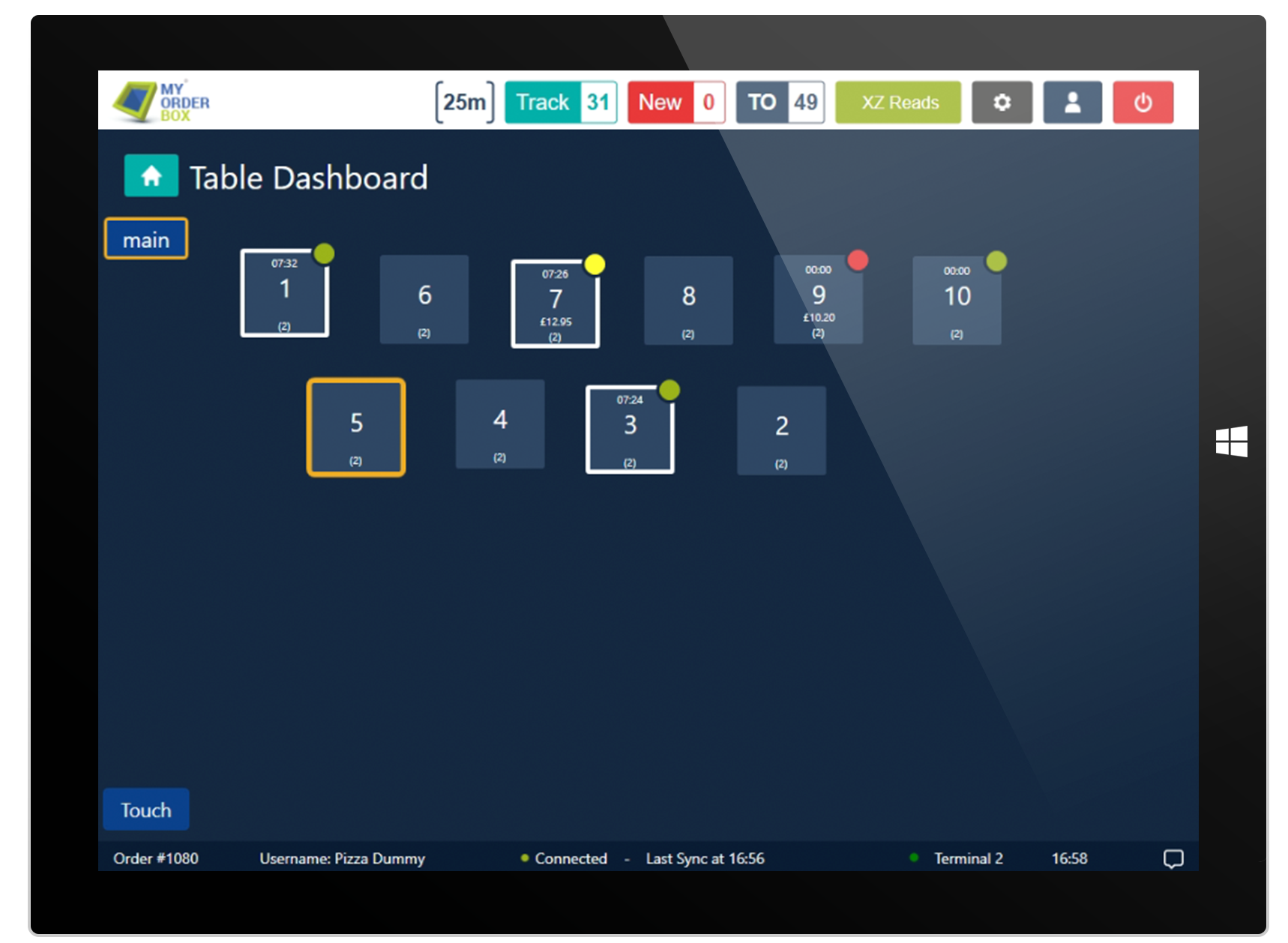 Regulate Collection & Delivery times in real-time

Control your website directly from your POS and instantaneously notify online customers the latest collection and delivery times, especially when your restaurant is super busy.

New order alert

Be notified immediately when an order has been placed online.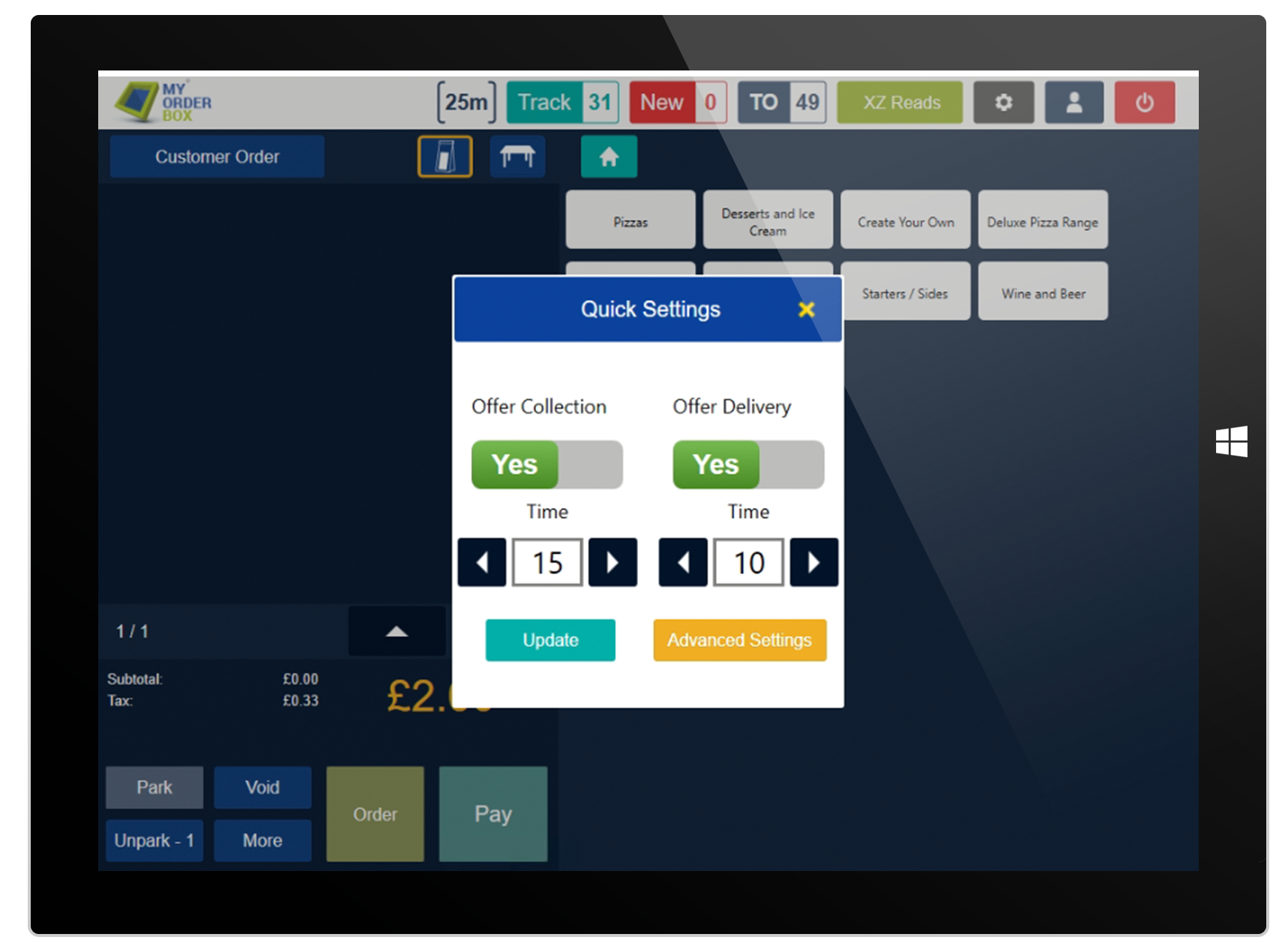 Powerful CRM system

Customer Relationship Management to keep you organised as your business grows. Never lose a contact again.

Customer Loyalty

Know how many orders your customers have placed with our LIfetime Orders feature and promote offers accordingly based on loyalty.

Block | Flag customers

Be able to block customers or flag them with specific notes, if issues arise with them.

Order History

Know when customers place orders with you and how frequent they place them, whilst using our Repeat Customer Orders feature enabling rapid orders.

Customer map

Automatically receive the best route and ETA from your restaurant to every customer when delivering.

Customer notes

Add specific instructions or any other information for any individual customer.

Email & SMS customers

Automatically send updates to customers with regards to their orders, so they always know where their food is, no matter what time of day.

Add new customers seamlessly on your ePOS

Save customer information during checkout and swiftly build your customer database.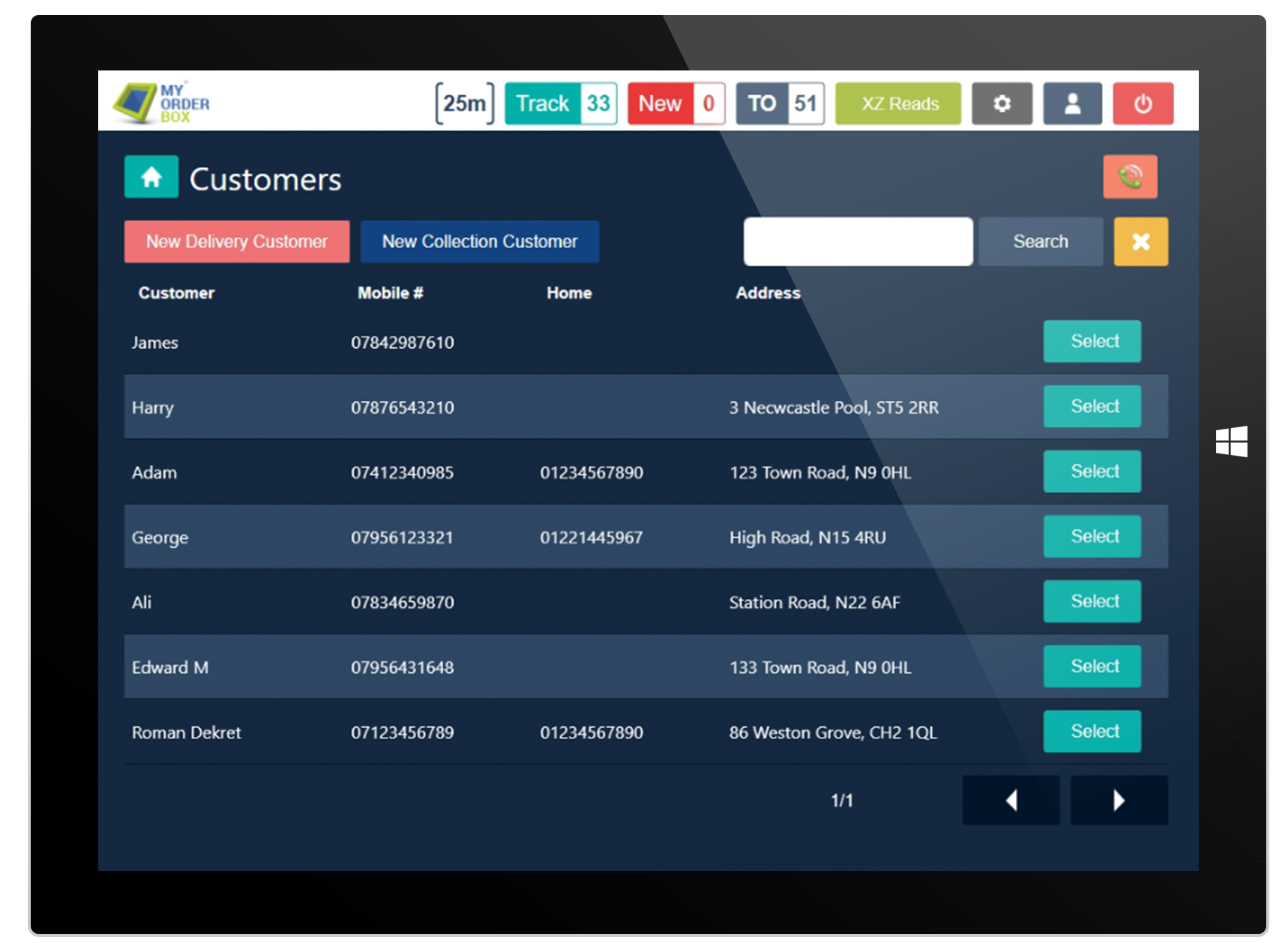 MyOrderBox is integrated with numerous payment services so you can opt for the one that satisfies you and your business.
Integrated card payments

Cards or Apple Pay. Counter or at the table. We've got you covered.

Trusted and secure payments

MyOrderBox integrates with a range of swift and reliable payment systems, allowing the entire transaction procedure to be smooth. – Contactless – Apple Pay – Magstripe – EMV Smartcard

Dependable hardware

We appreciate every business is unique and with numerous payment solutions we can help you choose the ideal payment terminal for you.

Ingenico

Boost sales and have speedy transactions with Ingenico's true cross-channel and secure payment solution. The Ingenico terminal has a professional and user-friendly design to ensure quick payments. Entirely functional with Apple Pay and contactless.

Payment Partners

Choose what is best for you. – Visa – MasterCard – Maestro – American Express – WorldPay – PaymentSense – Payment Express – Ingenico – Stripe – Chip & Pin Solutions