The most efficient ePOS solution. Handling all of your quick service needs.
Process orders quickly.
BOOK A DEMO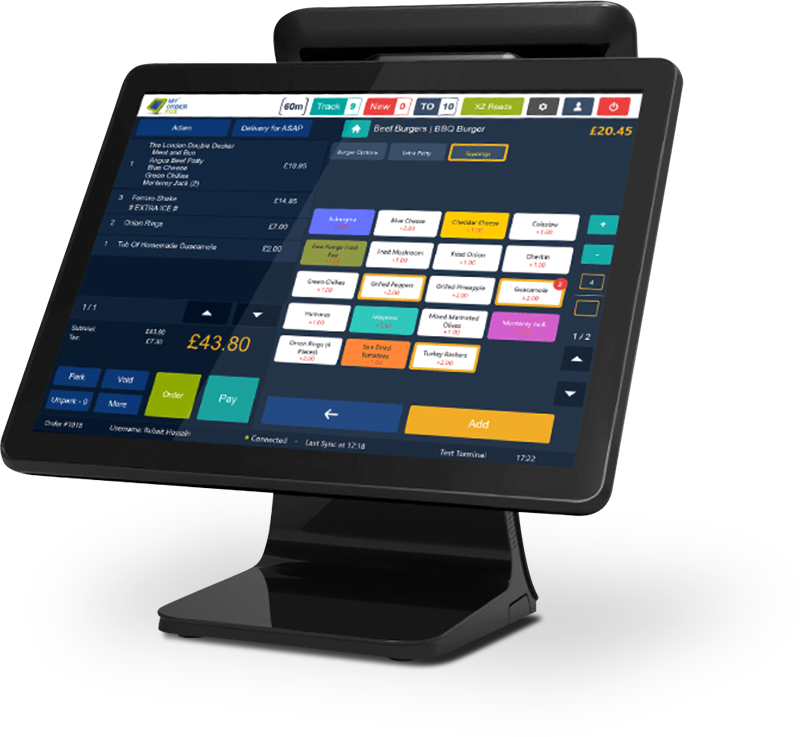 Unique Features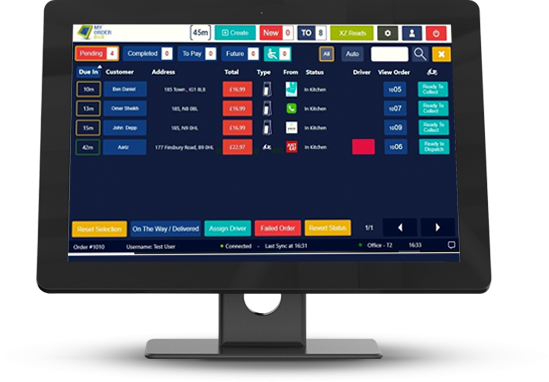 Complete, affordable and reliable takeaway ePOS software made to grow your takeaway.
It's
that easy
Every Order, One Place
Orders from delivery platforms like Just Eat, Uber Eats, Deliveroo and your own online ordering websites and mobile app, all come into one intelligent terminal, and are dispatched to the kitchen at precisely the right time. It's that easy.
Smart Promos
No matter how big the order is, MyOrderBox's technology automatically provides you with the best deals for your customers. Simply enter the items or meals chosen by the customer onto the ePOS and you'll see the best deal available for that specific order!
Sales Reports
MyOrderBox's Back Office gives you in-depth insights about your pizzeria wherever and whenever you are. Track sales by product, category, staff member and much more.
Smart Communication
MyOrderBox automated ePOS system keeps your customers in the loop. Collection or delivery, customers automatically receive updates regarding their order in real-time.
Click & Collect
Easily differentiate which orders are for collection with our smart interface.
Order Status
See real-time overview of every order's status, whether it be in the kitchen, on the way or already delivered!
Default & Substitution Options
Items which are part of a product by default will be preselected, with the option of removing an item available. The removed item can be replaced with another item, without having an influence on the price.
Smart Label Printing
Automatically create address labels for takeaway boxes or bags that have the order specific details, so customers immediately know which box/bag has which food.
Recipe Control
Easily calculate the cost of each meal according to size and additions with MyOrderBox, and fine-tune your menu automatically to increase your profitability.
Customer Loyalty & Rewards
Get to know your customers. Track their purchases, send promotions and keep them coming back for more with in-built Nobly Loyalty.
Enterprise Reporting
Our enterprise level reporting is perfect for multiple or single pizzerias. Use filters to understand what's happening across all store locations, at any time. Recognise and address areas of concern and look for opportunities for growth.
Custom Menu Design
Easily adjust your pizza menu and sync them from any location at any time. Promote your most popular items to your customers with MyOrderBox.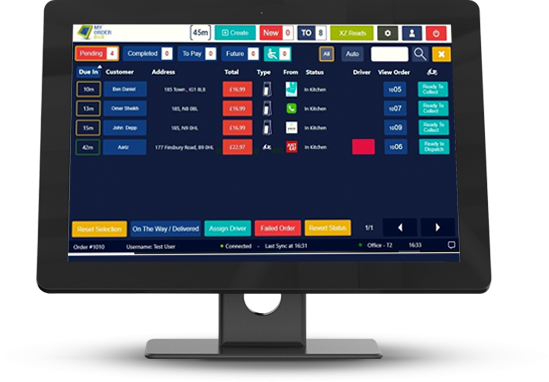 Understand what your bestsellers are and which items may need the cut!
It's
that easy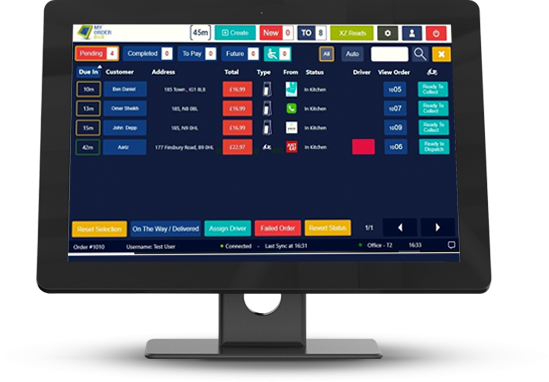 A customised online ordering solution for takeaways that your customers and staff will love. MyOrderBox saves you the hassle by sending collection and delivery orders straight to your kitchen from aggregators and your new FREE website!
It's
that easy
Free Website!
Your takeaway online ordering system is now free and easy. Be up and running in minutes!
0% Commission
Do you pay to accept phone orders? Of course not! So why should you pay for online orders? Maximise your profitability with MyOrderBox.
Track Your Order
MyOrderBox keeps your customers up to date with live driver updates. Customers can track their delivery driver from the website and be satisfied knowing that their food isn't far away.
Promos & Deals
Present your most valued customers with special pizza offers and choose when to create deals according to a specific date and time.
Add Pictures
Increase sales by up to 30% when you entice customers with high-quality images alongside a the details
Tag Your Products
Emphasise specific pizzas by organising them with the use of tags: suitable for vegetarians, gluten-free, contains alcohol, etc.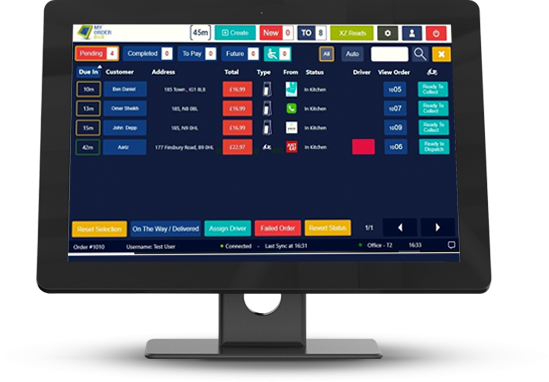 A truly unique software for takeaways to manage deliveries, track drivers and increase customer satisfaction.
It's
that easy
Delivery Dashboard
MyOrderBox lets you monitor every aspect of your delivery management system in real time. From order status to real-time driver tracking to customer updates. MyOrderBox has you covered.
Optimise Driver Routes
Guarantee every order reaches your customer on time with delivery time estimations, so you can establish the most effective delivery route all the time and your customers get their food piping hot every time.
Interactive Customer Map
Shows the fastest driver route to the customer. Transparency. One of the many reasons that MyOrderBox is the best pos system for pizza delivery!
Manage Online Delivery Orders
Control your UberEats, Deliveroo and Just Eat orders all from ONE place. Phew
Your Delivery Prices
Establish your own pricing for deliveries depending on 3rd party delivery and online ordering services.
Optimal Driver Routes
Automatically receive the best route and ETA from your pizzeria to every customer when delivering.
Email & SMS Customers
Automatically send updates to customers regarding their orders, so they always know where their food is.
Smart Driver App
Drivers receive details about every order in their delivery instantaneously on a map, saving you the hassle of providing details for every order.
Driver Performance
Recognise and motivate your best drivers by monitoring delivery times and track on-time arrivals for their shift, so you get the best out of your employees.
Driver Payments
Take multiple payments from drivers at the end of the day or after every order as it is automatically processed on a dedicated driver screen.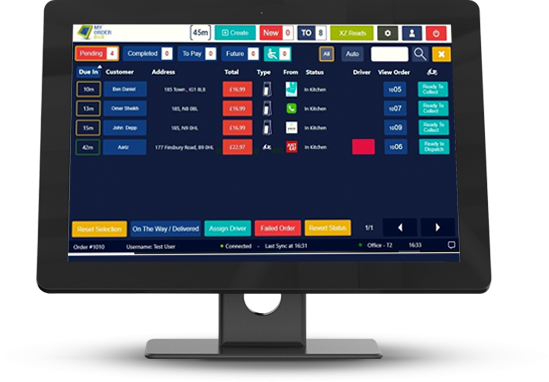 Enhance the efficiency of your kitchen by maximising server performance and automating your kitchen with our integrated KDS screens.
It's
that easy
Automate Your Kitchen
Allow kitchen orders to be displayed automatically on a screen or tablet in the kitchen as opposed to a printed receipt. Pizzerias can run multiple screens and have specific products appearing on each one to beat the rush!
Smart Order Grouping
MyOrderBox's automated system sorts delivery orders so they're all prepared at the same time for the delivery driver to collect.
Meal Coursing
Automate a group of items; order type, table service, drinks, desserts, etc, all at once to the appropriate kitchen station such as the make station or oven. This ensures each item is delivered when it should be, with every item freshly prepared.
Every Online Order in One Place
See your UberEats, Deliveroo, Just Eat orders and any other providers from one place.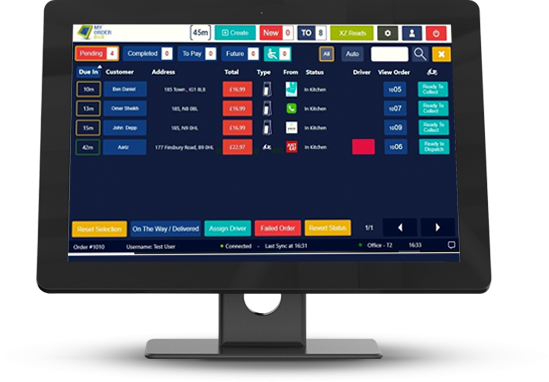 Manage your stocks and automate your menu in seconds.
It's
that easy
Smart Menu Management
Improve decision making with MyOrderBox, so every time you modify a pizza topping or ingredient, your corresponding menu item will automatically update for your profitability.
Smart Food Costing
Simply determine your most and least profitable pizzas which will allow you to engineer more cost-effective menus.
Smart Stock Alerts
MyOrderBox keeps you up to date with the latest changes in your inventory and alerts you if you're low on stock for a certain item.
Smart Margins Reports
MyOrderBox sends you automated reports that detail your pizzeria's costs and margins. Stay ahead of the competition by improving your profit margins year in, year out.